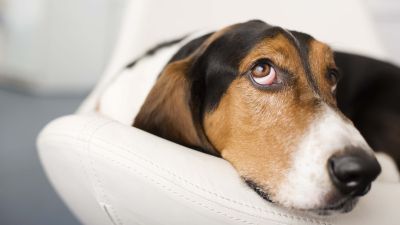 When you are looking for an emergency hospital, you want immediate care and knowledgeable service. ER4PETS in San Diego has a team of veterinary professionals to provide the best healthcare for your pet. We have a state of the art veterinary hospital which is comfortable, clean, and efficient. Come now or call 858-676-1600 24 hours a day if you have a question or concern. You will be very happy you came to ER4PETS for service.

When you come to ER4PETS on World Trade Drive, our suite is on the front of the building. You will be greeted and brought into an exam room where the veterinary technician will listen to your concerns regarding your pet. The digital medical record will be started by entering your information and your pet's information. When your pet has urgent needs, the technician will have you sign a consent to immediate treatment and bring your pet straight to the doctor for evaluation. The doctor would perform life-saving treatment and then inform you of the situation. Unless your pet's needs are life-threatening, the veterinary technician would ask you questions regarding your pet's condition and an estimate would be provided for necessary care. After you agree to the estimate provided, your pet will be taken to the treatment area for necessary care.

It is always a good idea to bring medical records you have for your pet including x-rays and bloodwork but it is not necessary prior to providing care. Let us know everything you think is important. For example, is your pet eating, drinking, vomiting, coughing, sneezing, bleeding, painful, or having diarrhea? The doctor will answer any questions you have before, during or after your pet's visit.

After you agree to the estimated cost, you will pay a deposit for the planned treatment. If your pet requires additional treatment you will be contacted regarding the necessary care and costs involved. The balance needs to be paid at the time you pick up your pet from the hospital.

For those pets with insurance, we will help you process your claim by providing the itemized invoice and detailed medical record to be sent to your insurance company.